British Automobile Timeline
* 1910 Daimler purchased by the armaments-and-motorbikes engineering company BSA
*1923 Morris purchases factory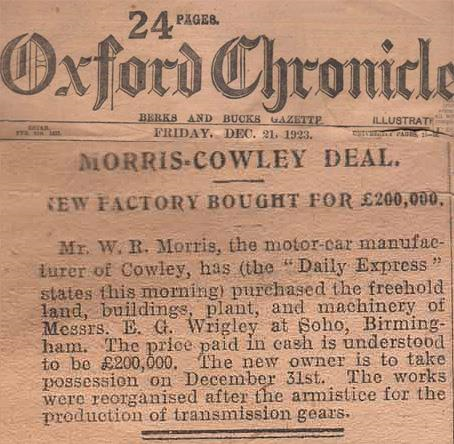 * 1931 Lanchester purchased by BSA (last Lanchester 1956)
* 1938 Morris incorporates Wolseley and Riley forming the Nuffield Organisation
* 1944 Standard acquire Triumph, forming Standard Triumph
* 1946 Austin acquire Vanden Plas
* 1952 The Nuffield Organisation and Austin merge to form the British Motor Corporation (BMC)
* 1960 Jaguar buy the car-making interests of BSA, including Daimler
* 1961 Leyland Motors acquire Standard Triumph
* 1963 Jaguar acquire the engine and fork lift truck manufacturing company Coventry Climax
* 1965 Rover acquire Alvis
* 1966 BMC merge with Jaguar to form British Motor Holdings (BMH)
* 1967 Leyland absorb Rover
* 1968 Leyland merge with British Motor Holdings to form the British Leyland Motor Corporation
* 1975 British Leyland effectively nationalised, company changes its name to BL Ltd.
* 1977 Michael Edwardes appointed Chairman by Labour Government. Massive cull of excess BL assets.
* 1978 Land Rover separated from Rover to form a separate company, still part of BL
* 1979 Collaboration with Honda begins, sacking of Derek Robinson ("Red Robbo")
* 1978 Closure of Triumph assembly plant in Speke – production moved to Canley
* 1980 Closure of MG and Triumph assembly plants in Abingdon and Canley
* 1981 Closure of Rover-Triumph plant in Solihull
* 1981 Alvis sold to United Scientific Holdings
* 1982 British Leyland renamed Austin Rover Group (ARG)
* 1984 Morris Ital goes out of production, signalling the end of the Morris badge
* 1984 Jaguar floated off (including Daimler and the US rights to Vanden Plas); bought by Ford in 1989
* 1986 Austin Rover renamed Rover Group, Austin badges disappear the following year
* 1986 Leyland Trucks & Vans sold to DAF. Vans became independent LDV in 1993, and Trucks became Leyland Trucks. Leyland Trucks was taken over by US giant PACCAR in 1998 and integrated with Foden.
* 1986 Leyland Bus floated off; bought by Volvo in 1988
* 1987 Unipart, BL's spare parts division acquired by management buy-out
* 1988 Rover Group privatised; sold to British Aerospace
* 1994 Rover Group sold to BMW; collaboration with Honda ends
* 2000 BMW decides to break up and sell the Rover empire; Land Rover sold to Ford
* 2000 Mini, Triumph, and Riley trademarks retained by BMW, but BMW's other interests sold off
* 2000 Remainder of company became independent as the MG Rover Group
* 2005 MG Rover goes into administration with huge debts, and production of all vehicles at the Longbridge plant is suspended.